Kathleen O'Meara is an expert in how Irish politics and government works, and in the relationship between Irish government, politics and the voluntary sector.
She has a lifetime of experience and knowledge, first as an RTÉ journalist, then as a member of Seanad Éireann, and most recently as a senior leader and campaigner in Ireland's voluntary sector.
Now she is making this deep experience available to groups, organisations and individuals who want guidance, expertise or advice on how to navigate the world of Irish politics, how to lobby government and the Oireachtas, and how a voluntary organisation can be effective and be heard.
Kathleen has designed and implemented a number of successful public affairs campaigns, in the areas of health, environment, and disability, while she was a member of Seanad Eireann, with the Irish Cancer Society and more recently with the Rehab Group.
Kathleen's career spans journalism, politics and advocacy.
She was the Labour Party's first Press Officer and went on to become a Special Adviser and then a member of Seanad Eireann in 1997, until 2007. Kathleen stood for election to Dáil Eireann for the Labour Party in 1997, 2002 and 2007 when she retired from electoral politics.
During that time she was also a member of a local authority in North Tipperary and worked close up on legislation, policy and as a member of Oireachtas Committees.
From 2008 when she became Head of Advocacy and Communications at the Irish Cancer Society, she has been steeped in the not-for-profit sector, bringing her campaigning, communication and political skills to work to make change happen.
Among her accomplishments as a campaigner are tobacco control legislation and the extension of cancer screening programmes.
She moved to the disability sector in 2016 when she joined the Rehab Group. She formed and led The Disability Action Coalition, a group of 8 national disability charities campaigning for a new and secure future.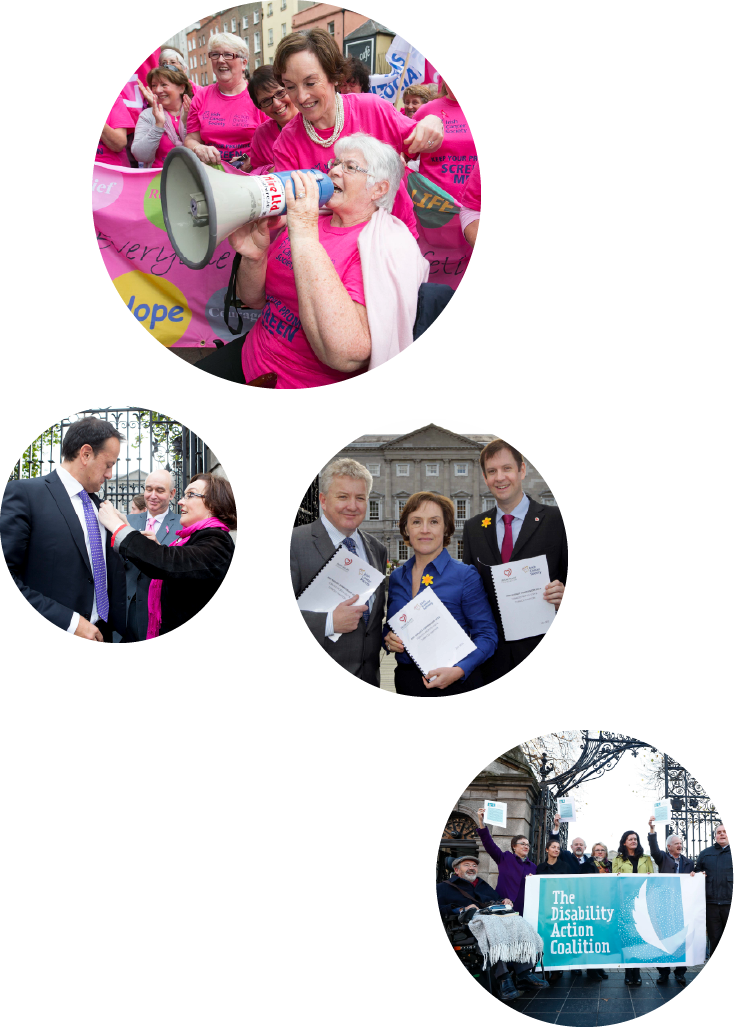 Empowering
people and organisations in their engagement with Government, the Oireachtas and the state, so that they are influential, get heard and get the result they want.
Kathleen's campaigning experience, extensive political connections and strategic brain, meant that when RehabCare challenged the Government on the issue of our funding in April-May 2019, we were well placed to succeed. Kathleen's work was key to that success.
MO FLYNN
CEO
THE REHAB GROUP
2015-2020